Hello everyone,
My name is Bo and I'm 24 years old. I have a full time job, two ferrets, and a passion for books. I recently picked up crocheting because I was looking for something nice, practical and relaxing in the evenings. Additionally, I'm following a course in pottery on Monday evenings.
To start off this blog, I'll show you my most recent project: a pair of crocheted pot holders.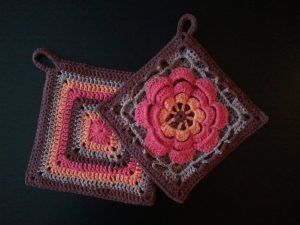 I followed a pattern from Drops Design, using yarns from Bergère de France's Sonora. I reduced the colour palette to four colours: encorce, muscade, gardenia, and melon. So, that's all for now. I'll probably post more of my recent work soon.