I learned to knit because I loved the idea of handmade socks.
Actually, I taught myself to crochet first. I had sort of learned it as a kid and knitting just seemed way too complicated.
I even tried out a couple of (very disappointing) crochet sock patterns. Then I resigned to the fact that I really had to learn how to knit if I wanted a nice pair of handmade socks.
So I taught myself to knit, using what felt like the entire Drops video library.
I started off with a couple of garter stitch squares in cheap acrylic. I turned these into potholders, not realizing at the time that heat and acrylic don't go very well together.
To be honest, I can't really remember what my next couple of knitting projects were. I didn't know about Ravelry at this point so the projects went undocumented. Anyway, a couple of months later I felt I was ready to knit my first pair of socks.
Thankfully I was blissfully ignorant of the fact that socks are considered pretty "advanced" projects in the knitting world, not to be attempted by a newbie knitter with just a few projects under their belt.
I went to a local yarn store, looked for the brightest skein of sock yarn I could find (pink!) and asked the shop assistant for needles to go with it. Not knowing any better, I ended up with a set of long, metal DPNs. Yikes. To be honest, I never did figure out how to knit with those.
After that, I did a bit of Googling before I went back to the store. I vaguely remember reading something about circular needles and/or Magic Loop during my research. I asked about this I was told that you can't knit "real socks" using circular needles. So that's how I bought my first set of short, bamboo DPNs.
I did actually manage to knit my first sock using those needles. Sock, singular? Why yes, I never even started the second one. My first sock was an ankle sock and I used a free pattern I found on the Drops website. It still boggles my mind that I figured out how to work the heel turn. Anyway, the sock ended up being about 6 in or 15 cm in circumference. Needless to say it didn't really fit.
As a beginner sock knitter, gauge was yet another thing I was blissfully ignorant of. I had no idea 2.5 mm needles weren't a good fit for everyone (like most newer knitters I was working at an awfully tight gauge). Back in those days I had no idea that a stitch gauge of 26 stitches per 4 in or 10 cm for a sock pattern using fingering weight yarn is unconventional, to say the least.
Ironically, my next couple of pairs of socks ended up being too big. My gauge loosened up and I had no clue negative ease was a thing. Soon I also learned that you can end up with 2 different sized socks, even if you are using the same yarn, needles and pattern.
You could say my relationship with sock knitting got off to a rocky start, but it's this rocky start that got me thinking…
Last Spring, I came up with the idea to create a collection of sock patterns suitable for a beginner sock knitter. I wanted to create something that would introduce the knitter to a variety of sock techniques, while keeping them from making the same mistakes I made.
Let's fast forward to the present and let me introduce you to The Coffee Socks Collection: 9 beautiful knitted sock patterns for adventurous beginners. Coming this January 2021.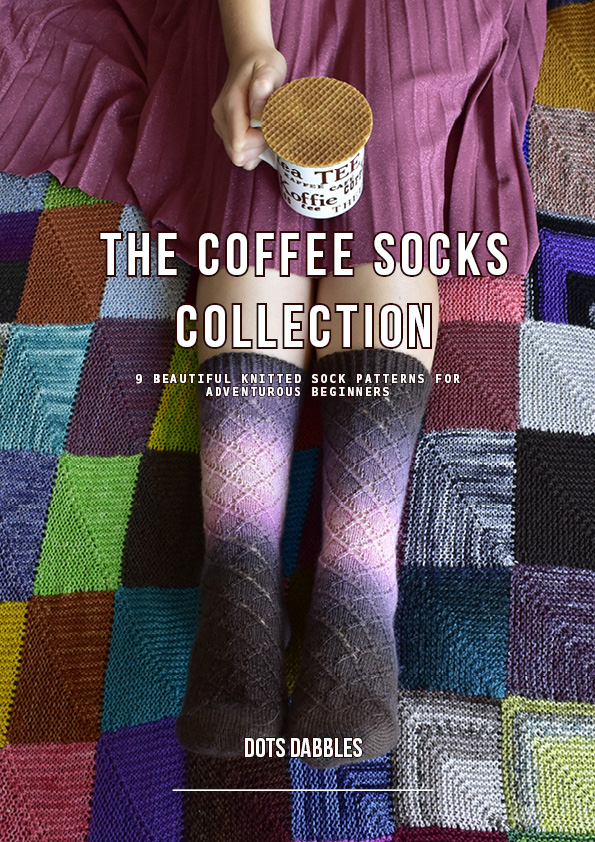 Read more on the blog in a couple of days.
Like what you read? Subscribe to my newsletter to be the first to hear about pre-orders and other offers.