On the 4th of January I received my first (and, for now, only) Club yarn package of 2016.
It was a beautiful set of variegated mini skeins by The Knitting Goddess.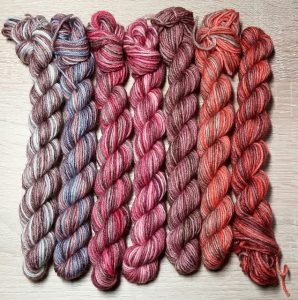 I had never ordered a set of mini skeins before, but I'd always been rather curious about them. The problem was that I hadn't really thought of a project before ordering them way back in November.
So, what was I going to do with them?
Luckily shiny new yarn has this way of attracting the most perfect pattern , so you can drop all your WIPs and cast on right away.
This time the perfect pattern presented itself in everyday shawl by Jenny F. Though the pattern was written for a gradient yarn, I knew stripes would work just as well.
Here it is, my version of the everyday shawl: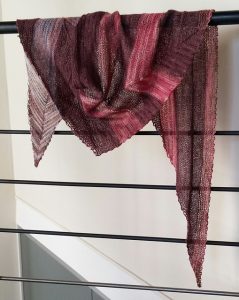 I used 5 mini skeins and about 50 grams of The Knitting Goddess UK 4ply British wool and nylon in Hazelnut Brownie (from last year's Puddings Club). You can find details about my colour sequence on my project page.
As it turns out one stripe with the total amount of stitches uses little over 10 grams of yarn, so it's ideal to use up those mini skeins or sock yarn leftovers.
I do think I need to come up with many more patterns projects before I can work my way through the vast amount of leftovers I have left.
Maybe I should try a blanket next?